Good Morning Nick,
Thank you for sending the new circuit board. I installed it two days ago and it seems to be working again. Attached is a picture of the boat. It is a 42′ Cheoy Lee Luders ketch. built in 1971.
The boat was last launched on October 1, 2007.  I put 5 to 7 coats of paint on the bottom hoping to get two to three years antifouling here in south Florida's warm waters. After three years the paint was still somewhat effective but starting to get more barnacles.   After checking Miami boat yard haul out prices I decided to try the Ultrasonic antifouling system. I figured if it could cut my haul outs in half, it would pay for itself in only one haul out and painting savings. That's when I ordered and installed the Ultrasonic antifouling system in 2010.
I have a diver check the bottom about every six months for cleaning, zincs, and checking for blisters etc.  He regularly takes off just a few small barnacles, but no problem large enough to necessitate a haul out and new bottom paint. I have not needed a haul out since installing the system. My diver is amazed.
Two months ago the diver told me he suddenly found a lot of large cone shaped barnacles. I checked the Ultrasonic equipment and found it had quit working, after eight years. That's when I emailed and ordered a new pc board. That has now been installed and we are back in business without a haul out. It has now been a total of 11 years since my last haul out.
I have been amazed that the Ultrasonic has so exceeded my expectations.  Normally I would have expected to have needed four haul outs during those eight years at a cost of $10,000- $15,000 total, plus the time and work involved. My friends who do not paint their bottoms often do use a diver every month to keep the bottoms clean.  I use a diver only twice a year.
I would recommend everyone use the Ultrasonic antifouling system.  It's better for the environment than pesticide laden paint, cheaper, easier, and it works. I still have a diver regularly check the bottom, replace the zincs, and freshen up the running gear as I do get a few barnacles there in the summer, but the costs and always being ready to go is wonderful.
The below picture was taken five years after launch and you can see the bottom looking almost new other than the stains on the waterline.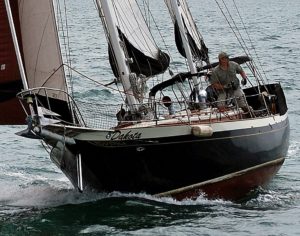 L. B. Carpenter (owner)
Miami, Florida. USA.