Hull Protection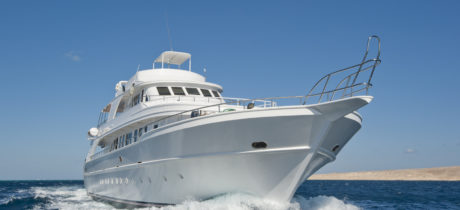 There are no special issues to installing Ultrasonic Antifouling to Superyachts, it's a simple consideration of the larger underwater surface area and larger sets of stern gear requiring the correct number of transducers to afford the benefits of maintaining hull performance, more efficient passage times and saving fuel by reducing drag on the hull. It can take up to 30% more fuel to push a fouled hull through the water – a significant factor for motor yachts.  Furthermore, by extending the time before the next lift or dry dock is required, saves significant costs and provides more operational time for the owner.
NEW PRODUCT FOR SUPERYACHTS –  The UltraSystem PowerPlus is specifically designed for larger hulls where a greater underwater surface area and thicker hull constructions benefit from increased ultrasonic output.  Using a single high powered control unit, this advanced and unique system delivers twice* the ultrasonic output level to four transducers simultaneously, making it the most powerful and advanced system available for superyachts.
No through hull drilling is required, so the system can be installed with the yacht in the water.
* when compared to the Ultra 20 two transducer system designed for small pleasure craft.
System recommendations
Transducers installed onto inner surface of hull - no thru-hull penetrations required.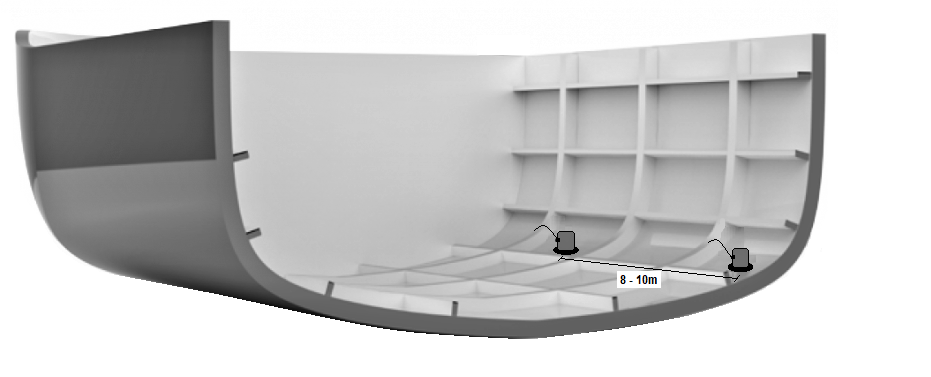 One transducer has an effective high protection radius of approximately +/- 3.5m*, one system with four transducers will provide protection for an area of approximately 196m2.  Transducers should be positioned on the hull approximately every 7m.
*hull substrate material and thickness influences the transmission of sound waves.
Motor yacht hull - 28m - 34m

System requirement:
2 x Ultra PowerPlus – four transducer high-power output system
General recommendations for number of transducers
24 to 28m (LWL) – 6 transducers
28 to 38m (LWL) – 8 transducers
38 to 54m (LWL) – 12 transducers
54 to 70m (LWL) – 16 transducers
70 to 86m (LWL) – 20 transducers
86 to 100m (LWL) – 24 transducers
Ultrasonic Antifouling Ltd provide a custom design service for yachts requiring multiple transducers.  Contact us with your yacht details.
Please contact our technical sales team for a suitable system recommendation.